2022 VW Tiguan for Sale in West Warwick, RI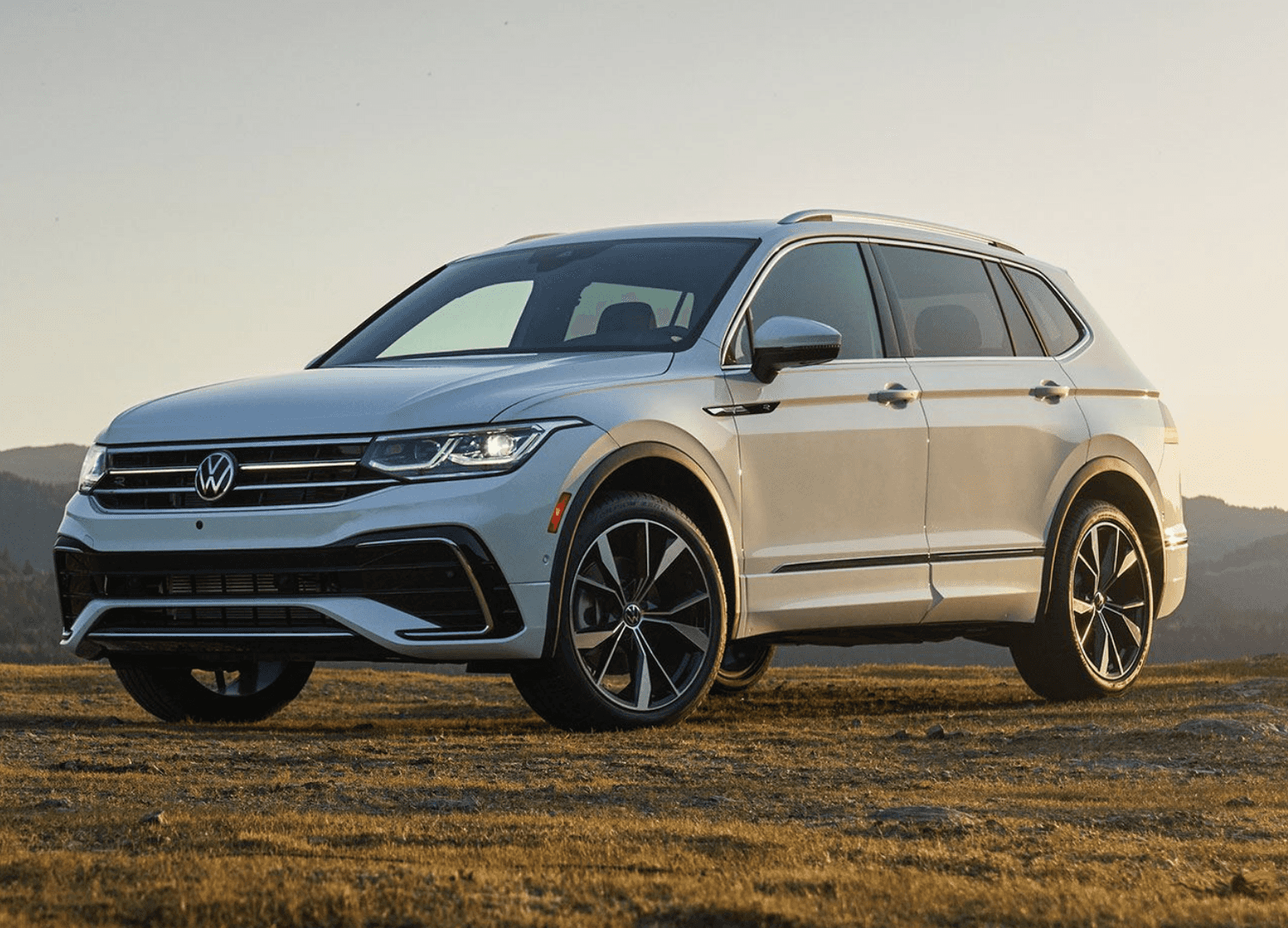 2022 VW Tiguan vs. Competition
The popularity of the compact crossover segment is understandable due to their practicality and ease of driving. But the hot sales situation has raised the level of competition among automakers. And while it's generally good for consumers to have a lot of choices, that abundance can make it difficult to come to a decision. The 2022 Volkswagen Tiguan though, has many outstanding characteristics that earn it a top spot on shopper's lists. Some of the heavy hitters that it must contend with are the Honda CR-V, Toyota RAV4, Hyundai Tucson, Nissan Rogue, Subaru Forester, Ford Escape, and Chevrolet Equinox. Let's see how the '22 Tiguan compares to these other vehicles in its class.
Passenger Capacity and Cargo Space
Most compact crossovers only come with two rows of seating, but the '22 Tiguan has a standard third row, which means it can seat up to seven passengers while the other models in this comparison can only seat up to five. If you don't plan on accommodating seven passengers and would prefer increased cargo space, then the two-row Tiguan variant should do the trick with its maximum cargo volume of 73.4 cubic feet. That's more than you'll get with the RAV4 (69.8 cu. ft.), Forester (69.1 cu. ft.), and Escape (65.4 cu. ft.). Even though the CR-V, Tucson, and Rogue offer slightly more cargo space, the difference isn't all that substantial. Plus, since they aren't offered with a third row, they might not be as appealing to potential buyers who often carry a lot of passengers.
Capabilities and Towing
While the crossover buyer isn't typically concerned with horsepower, they'll surely notice if a vehicle is underpowered. That won't be the case with the '22 Tiguan which edges out its rivals in this department. While its base engine's horsepower is on par with most, it puts out more torque – 221 lb.-ft. – meaning that it will pull away from a standstill with more authority. Consider that the competitors all have lower torque output: CR-V (179 lb.-ft.), RAV4 (184 lb.-ft.), Tucson (178 lb.-ft.), Forester (176 lb.-ft.), Escape (155 lb.-ft.), and Equinox (203 lb.-ft.).
Each model in this comparison is offered with all-wheel drive, too, and most of them can tow up to 1,500 lb. The exceptions are the RAV4 (1,750 lb.), Tucson (2,000 lb.), and Forester (3,000 lb.), but that trio falls short in other considerable areas.
Style and Amenities
The VW Tiguan stands apart from the other models in this comparison with its sophisticated appearance and upscale interior, qualities that European-branded vehicles have long been known for. In many ways, it looks more like a luxury vehicle than one with a base MSRP of $26,295. While most of the vehicles here are similarly priced, the '22 Tiguan has a more compelling slate of features that's worthy of attention. For example, the base S trim comes with equipment typically reserved for higher-end trims, such as LED headlights, roof rails, heated windshield washer nozzles and front seats, push-button ignition, and an 8-inch digital gauge cluster.
The S can also be ordered with the IQ.Drive & S Convenience Package to supply rain-sensing wipers, a simulated leather-wrapped steering wheel, an auto-dimming rearview mirror, adaptive cruise control, lane assist (keeps you from weaving into another lane), travel assist (provides steering, braking, and acceleration support), and emergency assist (can autonomously bring the vehicle to a controlled stop). Many of those features are available in the other models, but you'll need to upgrade to a more expensive trim to enjoy them.
Complimentary Maintenance and Warranty
The '22 Tiguan comes with a generous Carefree Coverage plan which includes 2 years/20,000 miles of complimentary maintenance. Not only that, but it also has a new vehicle limited warranty that lasts for 4 years/50,000 miles. The only other models in this comparison that get complimentary maintenance are the RAV4 and Tucson, but the RAV4 only comes with a 3-year/36,000-mile new vehicle limited warranty, as do the CR-V, Rogue, Forester, Escape, and Equinox.